Social Media Application
Development of Facebook Application

E- Commerce Application
A User - Friendly Shoping Cart

Development Application
Using ASP.Net Visul Studies 2008
Quality Assurance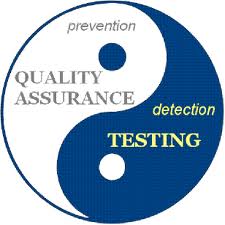 ABSTRACT
Because of its possible instant worldwide audience a WebSite's quality and reliability are crucial. The very special nature of the Web applications and WebSites pose unique software testing challenges. Webmasters, Web applications developers, and WebSite quality assurance managers need tools and methods that can match up to the new needs. Mechanized testing via special purpose Web testing software offers the potential to meet these challenges.
INTRODUCTION
WebSites are something entirely new in the world of software quality! Within minutes of going live, a Web application can have many thousands more users than a conventional, non-Web application. The immediacy of the Web creates an immediate expectation of quality and rapid application delivery, but the technical complexities of a WebSite and variances in the browser make testing and quality control more difficult, and in some ways, more subtle. Automated testing of WebSites is both an opportunity and a challenge.
Sai Research & Development Software (SRD Software)

is a delhi based

ecommerce website design company

offering effective, stylish, secure, search engine friendly

ecommerce website designs

to business or corporates. As the Internet is becoming an integral part of everybody's life, it is becoming more and more important for many businesses to offer customers the facility of purchasing online. Online shopping is the process of consumers going through to purchase products or services over the internet.
The

E-Commerce website design

aspect of the World Wide Web is growing rapidly and Sai Research & Development Software (SRD Software) is at the forefront of this exciting field in India. In order to initiate better prospects for higher business earnings, Sai Research & Development Software (SRD Software) a reliable

ecommerce website design company, offers highly remarkable web design services to its esteemed clients.
Our

ecommerce developers india

have pioneered a number of E-Commerce sites that are taking orders on the Internet every day and it is our vast experience that have made these sites successful. Sai Research & Development Software (SRD Software) Software Solution have the ability to provide systems designed to all requirements and budgets. From entry-level systems, to the ultimate E-Commerce package with unlimited products on-line, full customization and highly intelligent stock control integration and personalization features can all be delivered, dependant upon specific requirements.
YOU can manage your ecommerce website design on your own with online control panel & features like updating News, Delete & Modify the Buyer/ sellers, adding products/ updating details, managing product categories, changing categories of Sellers/Buyers and many more features so that you maintain your Website/Portal online your self.
The Basic idea is to convert a simple site (with database or without) in a more lucrative and easy way to update online yourself without paying the updating or maintenance charges.
An e-commerce site features:
| | |
| --- | --- |
| | Customize layouts |
| | Content management |
| | Create unlimited pages and layouts |
| | Information flow to back-office systems |
| | Customer account setup and management |
| | E-Commerce Shopping Cart |
| | Integrating Payment Gateway with your Website |
| | Orders tracking |
| | Traffic Stats |